File & Pay Your Taxes in Minutes!
Taxumo is an accredited online tax compliance tool in the Philippines.
We help thousands of freelancers, self-employed professionals, small business owners and corporations file and pay their taxes from wherever, whenever.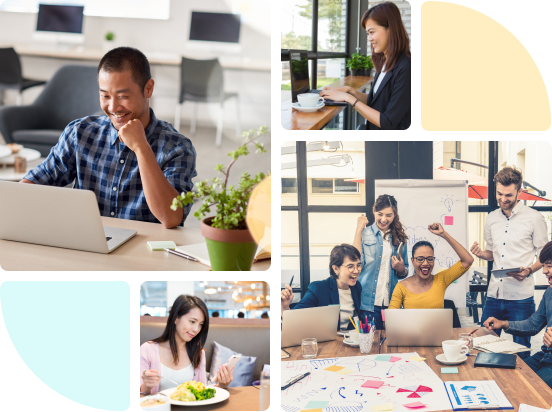 Have specific tax requirements? We've got the perfect package for you.
Decided to hit pause on your business and don't want to close it yet? We can help. Taxumo Lifeline lets you automatically file zero income, zero expense, zero WHT, and zero due tax forms for you.
Plans designed for freelancers and sole proprietors. Start for free or go for any of our affordable packages.
File for your Quarterly Income Tax Return for Corporations and Partnerships (1702Q) with Taxumo. Forms are using new rates stated on the CREATE law. 


Learn the benefits of our award-winning tax compliance platform
Multiple Payment Channels
Skip the lines and pay conveniently through our different payment channels – including PayPal, GCash, and more. 
Access your account 24/7, and conveniently file, manage, and pay taxes while you travel.
Say goodbye to complicated tax forms. With Taxumo, your forms are filled out in one click!
Real-time Tax Calculation
Ever experienced "tax bill shock"? With Taxumo, you don't have to. Taxumo shows you updated tax dues in real time.
Submission of Attachments
Creating attachments can be tedious. Taxumo lets you automatically create relevant QAP, SAWT, and SLSP/VAT relief attachments for each filing.
Access your Taxumo account on mobile. The web app works excellent on your smartphone or tablet.
Watch our 1-min video to get started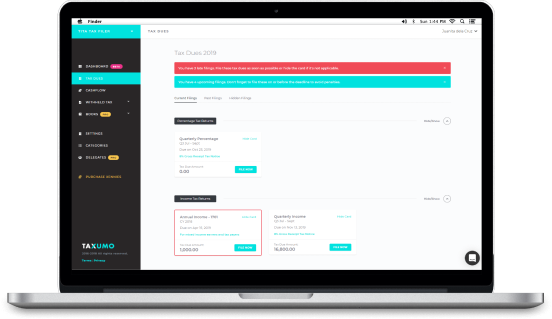 Still unsure about how Taxumo works?
Whether you decide to use Taxumo or not – we're happy to run a live walkthrough for free. Pick a date and join our live sessions today.
Sign up now and get started
The Premiere Tax Compliance Solution for professionals, sole proprietors, and micro & small businesses.
Here are some of the customers that use Taxumo to file and pay their taxes.
"Taxumo helps me free up my time. I don't have to schedule my week around tax deadlines anymore."

Raffy Vicente
RV Marketing and Consultancy
"Paying taxes should not be a pain every month. You can just go online and submit through Taxumo-it's easy as that."

Rach Bonifacio
Studio Owner Treehouse Yoga
"Because of Taxumo, I don't have to worry about taxes. All my passion, all my energy, and all my time can go to my business-and most impor-tantly my family."

Frances Sales
Writer and Editor – Topaz Horizon
Our trusted payment channels
Here are our partners that secures your tax payments.