If you are a business owner, professional, OFW or a voluntary contributor, you are very well aware of the hassle of paying for your Social Security System (SSS) contributions.
Because if you were an employee before, you didn't really have to think about all that because your employer took care of remitting your contributions for you by deducting it from your salary.
But now that you are considered by the SSS as an individually-paying member (self-employed, voluntary, non-working spouse, and OFW), you have to make the payments yourself.
List of Payment Facilities for SSS Transactions
As of this writing, the only means to pay for your SSS contributions are the following. (Taken from the SSS Facebook Page)
1. SSS Tellering Branches (120+ branches to date)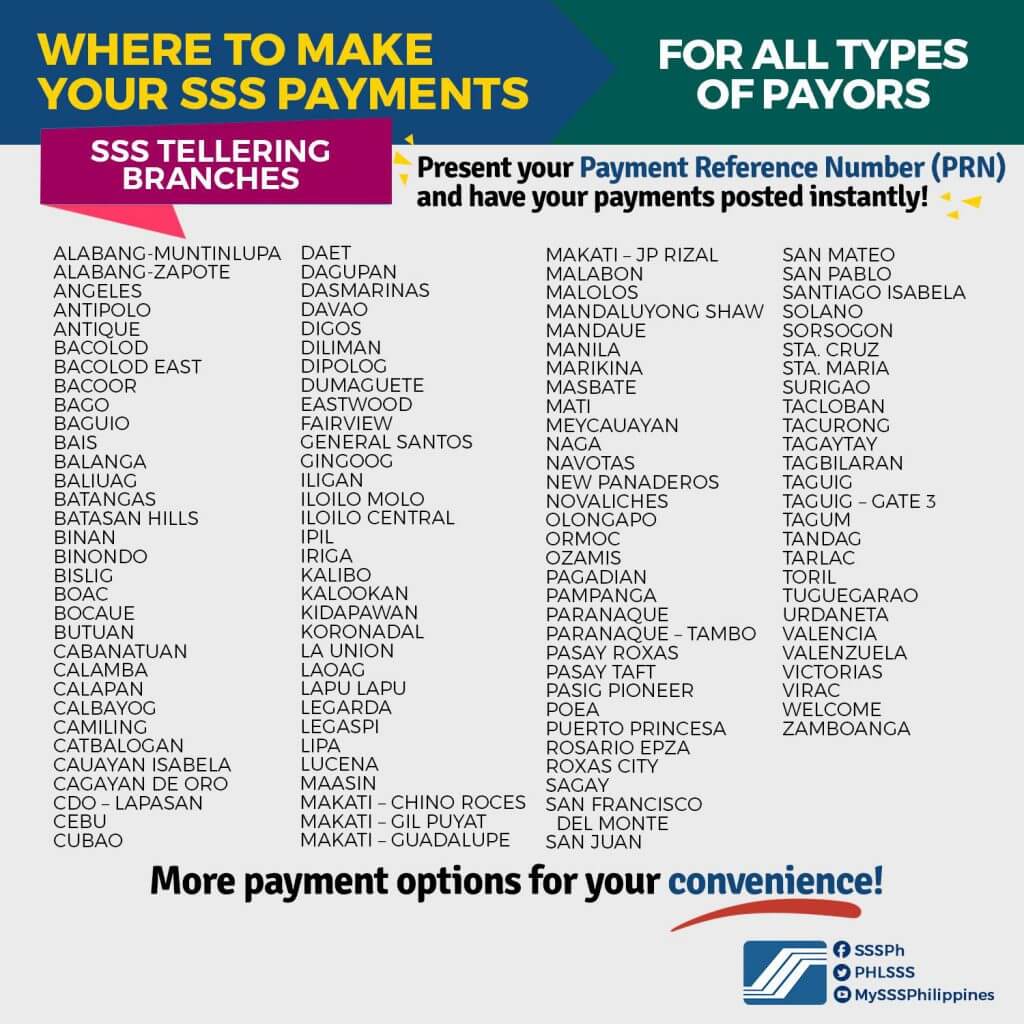 2. Partner Banks (Over-The-Counter)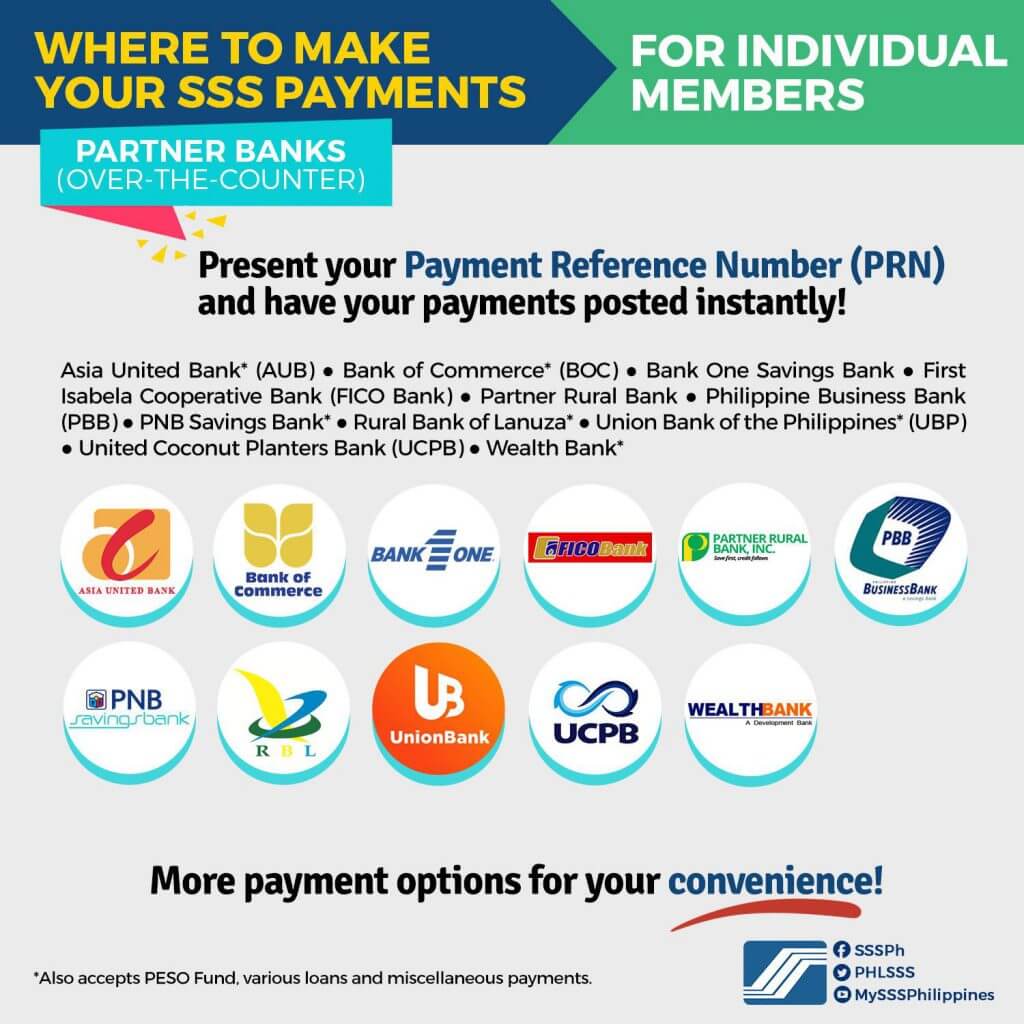 Asia United Bank* (AUB)

Bank of Commerce* (BOC)

Bank One Savings Bank

First Isabela Cooperative Bank (FICO Bank)

Partner Rural Bank

Philippine Business Bank (PBB)

PNB Savings Bank*

Rural Bank of Lanuza*

Union Bank of the Philippines* (UBP)

United Coconut Planters Bank (UCPB)

Wealth Bank*
*Also accepts PESO Fund, various loans and miscellaneous payments
3. Non-Bank Collecting Partners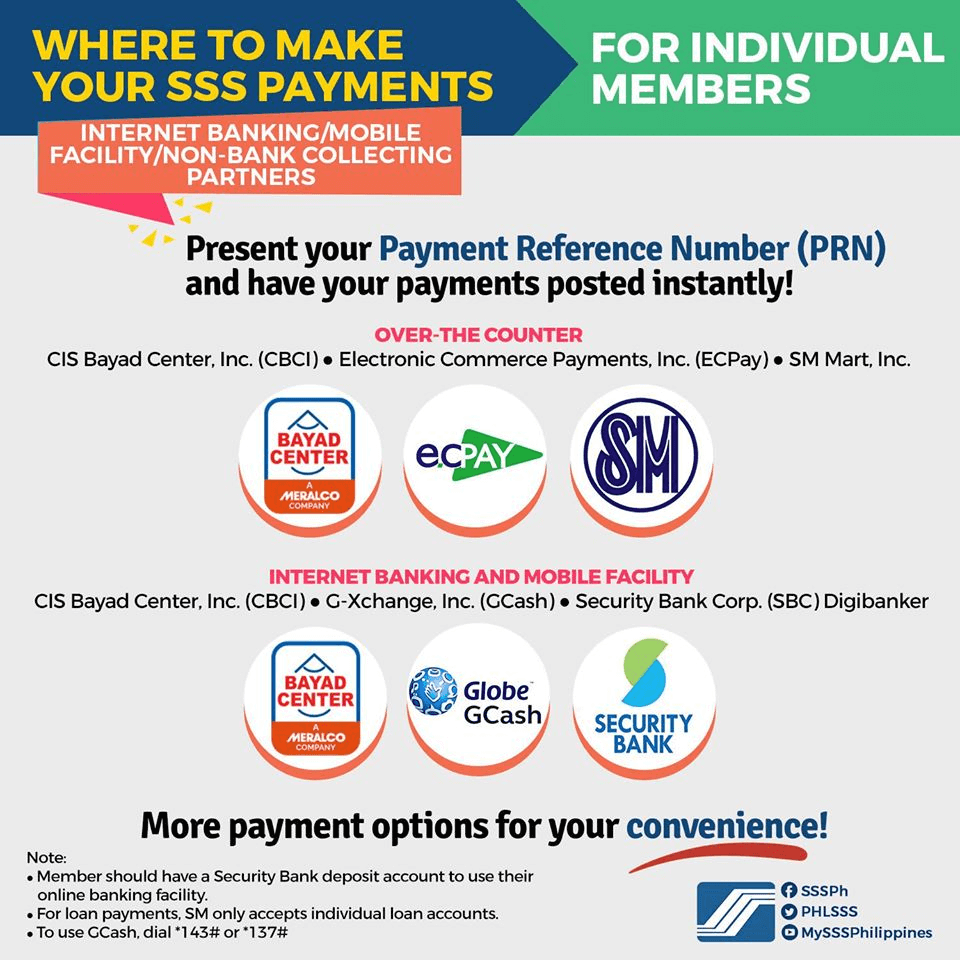 OVER-THE-COUNTER
CIS Bayad Center, Inc. (CBCI)

Electronic Commerce Payments, Inc. (ECPay)

SM Mart, Inc.*
MOBILE FACILITY
CIS Bayad Center, Inc. (CBCI)

G-Xchange, Inc. (GCash)
*For loan payments, SM only accepts individual loan accounts.
4. Abroad Over-The-Counter (for OFWs)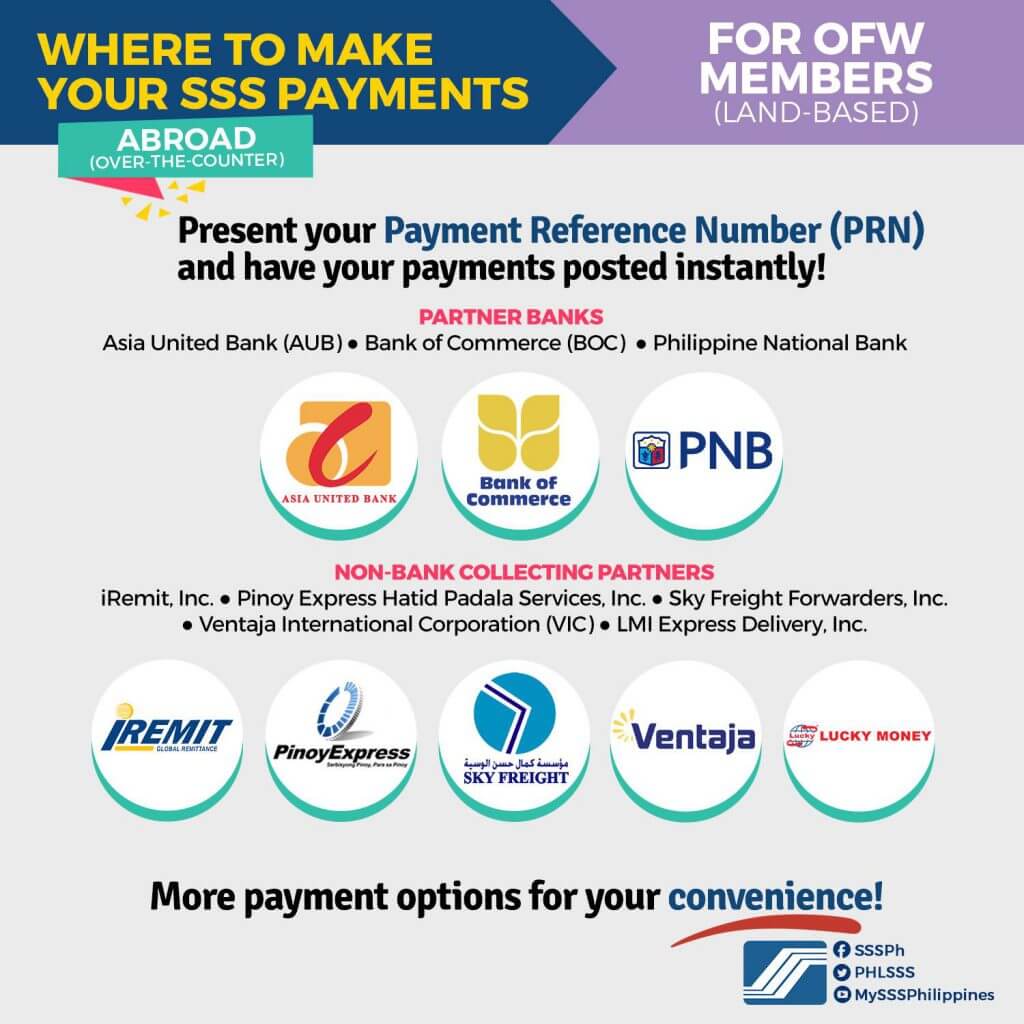 Asia United Bank (AUB)

Bank of Commerce (BOC)

Philippine National Bank

iRemit, Inc.
Pinoy Express Hatid Padala Services, Inc.
Sky Freight Forwarders, Inc.
Ventaja International Corporation (VIC)
LMI Express Delivery, Inc.
(To get the latest and most updated payment channels, feel free to visit the SSS Facebook page.)
It is very important to note, however, that you need to get a Payment Reference Number (PRN) first before you pay at any of the payment channels mentioned above.
What is a PRN and why do I need to get that to pay any SSS transaction?
The Payment Reference Number or PRN is simply a system-generated number that the SSS provides and that members use as reference whenever they pay for their contribution.
This is a requirement by the SSS as part of its Real-Time Processing of Contributions (RTPC) program — which ensures that contributions being paid by its members are posted immediately to their records and allows members to avail of their benefits as SSS members without delay.
Recently, the SSS has also made mandatory the use of the Payment Reference Number for paying SSS loans. This will take effect on April 1, 2021.
How to generate a Payment Reference Number (PRN) the old way
Before, to get generate this PRN, members would either have to:
Go to the SSS website (you have to register first)

Visit one of their branches

Call the SSS helpline at 920-6446 to 55 (Mondays to Fridays only) or
Email them at PRNHelpline@sss.gov.ph.
This could take a while before you get your PRN, and as mentioned earlier, you can't pay your SSS contribution or loan without that.
Imagine, having to go to a different channel just to get a PRN. Why not do it all in one go?
How to generate a Payment Reference Number and pay your SSS Contributions online all in one go
With Taxumo, you can now generate a PRN and pay your Social Security System (SSS) contributions online at the same time, on the same screen, in just a few clicks.
No need for you to generate a PRN from other sources (MySSS, helpline, email or text) just to make a payment.
How to Generate a SSS PRN and Pay Your SSS Contributions Online with Taxumo
Here are the steps to generate a PRN and pay your SSS transaction through Taxumo.
11 Easy Steps to Pay Your SSS Contributions and Generate PRNs Online
1. Create a Taxumo account or log-in to your Taxumo account at www.taxumo.com. Since Taxumo is an online tax filing platform, you will need to register your business details first before proceeding to the next step.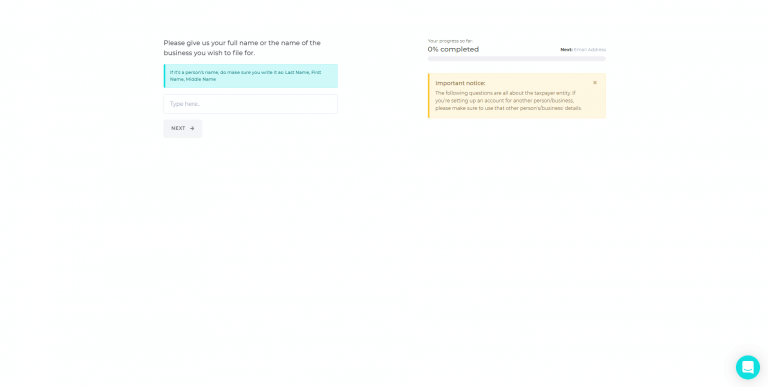 2. Choose Pay Bills and then Gov't Contributions on the left sidebar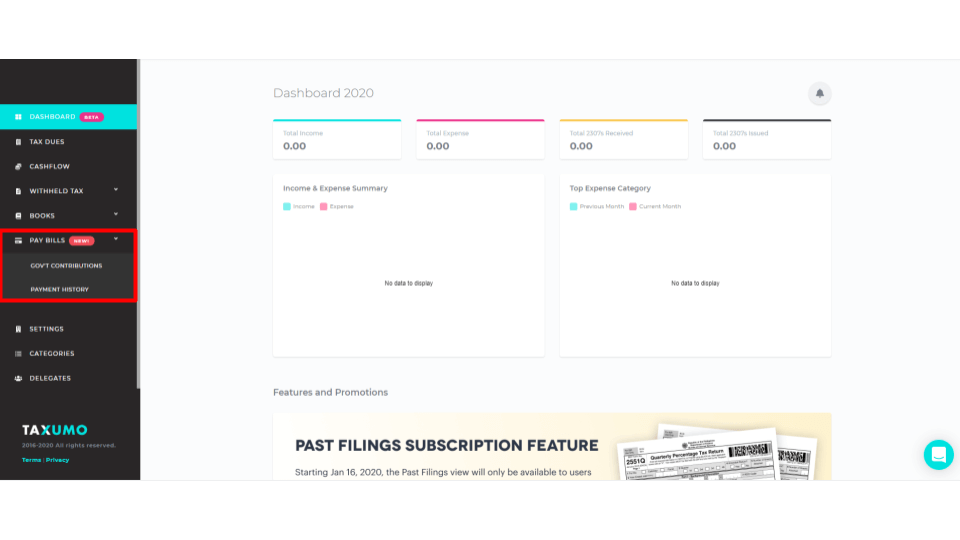 3. Select the Payment Type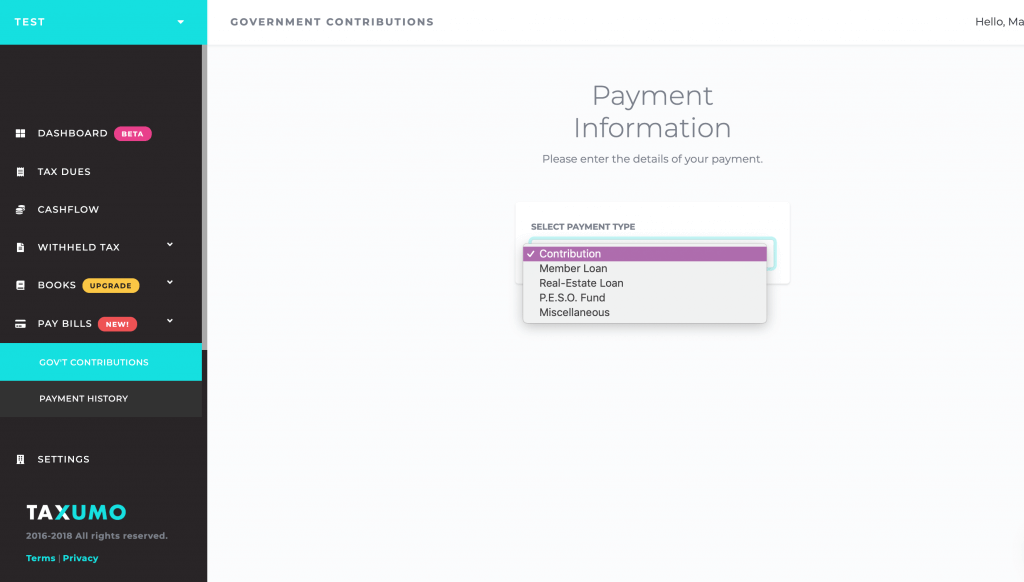 4. Select Payor Type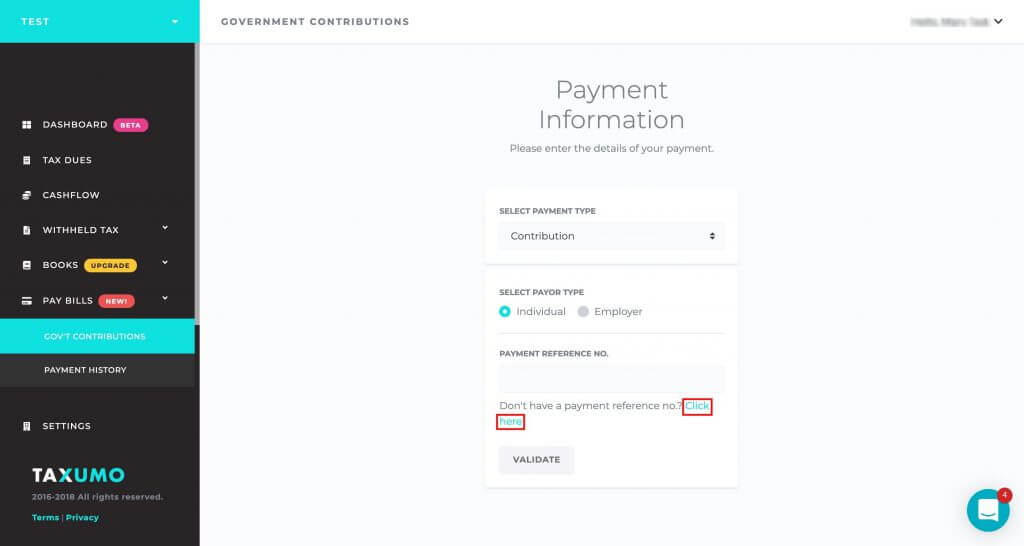 5. Enter your Payment Reference Number (PRN) if you have one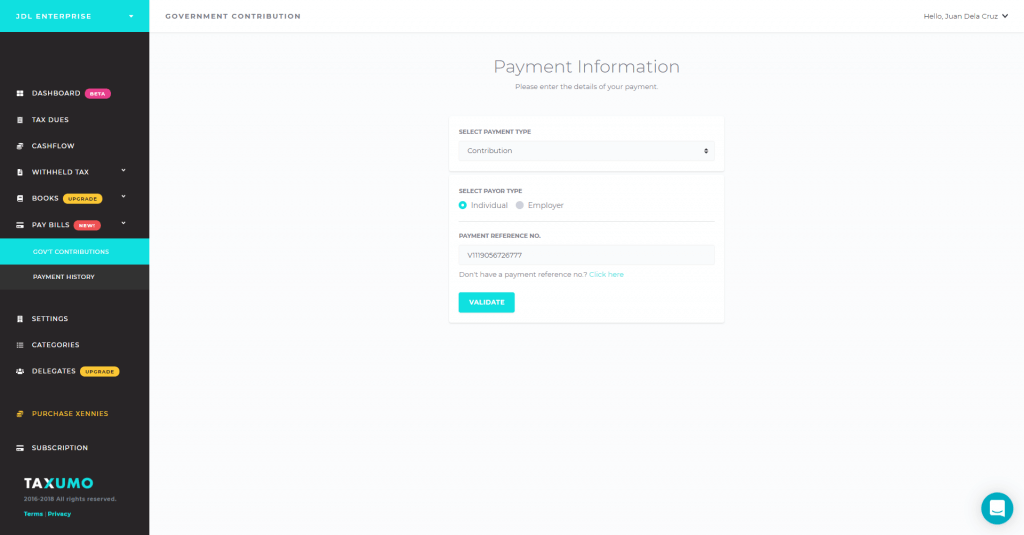 6. If you don't have a Payment Reference Number, choose Click Here to generate one.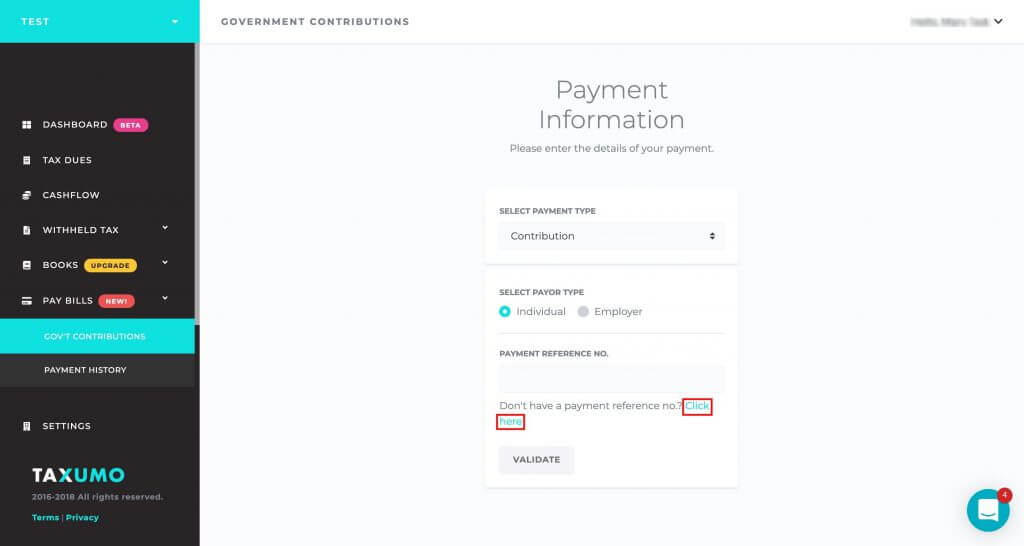 7. Fill out the necessary fields and then click Generate Payment Reference No.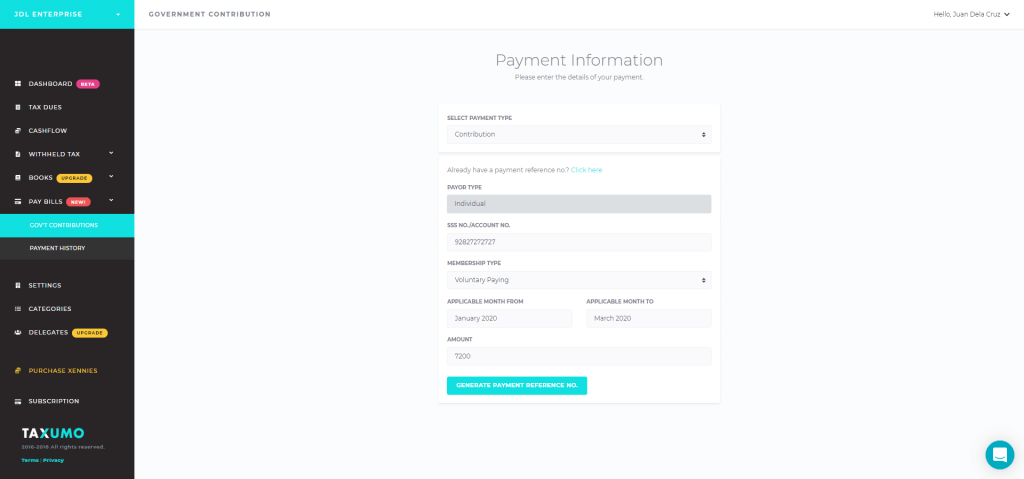 8. Click Validate to validate the PRN
9. You will see a Confirmation screen. If details are correct, click Proceed to Checkout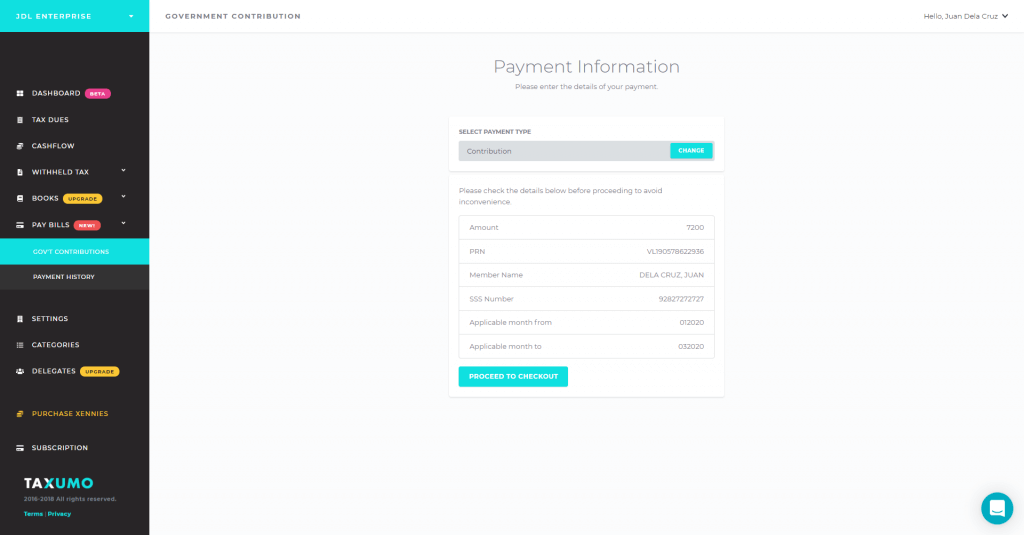 10. Choose a payment method (Credit/Debit card, Paypal, GrabPay, Over The Counter and Non-Bank Payment Centers) and click Pay Now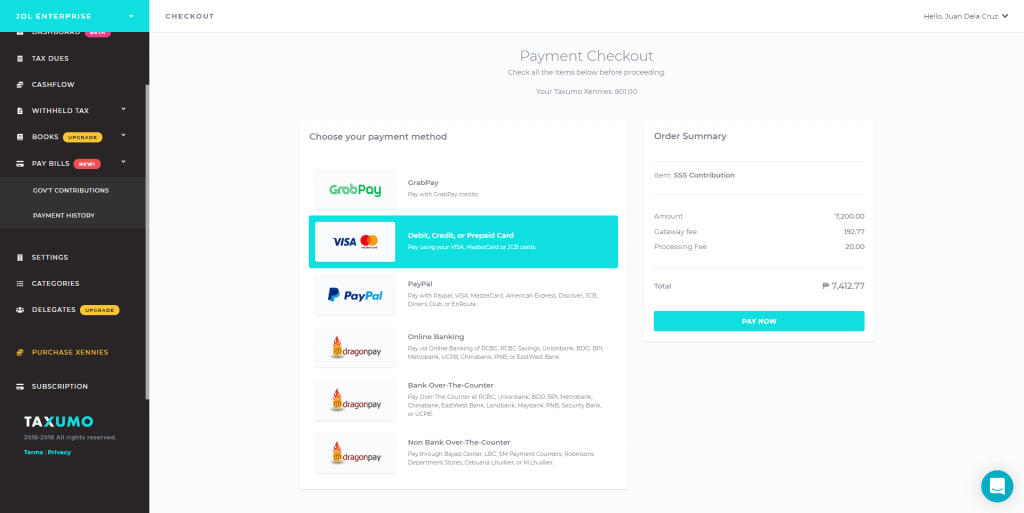 11. If your payment is accepted, you will see a Success Page and an email notification from Taxumo
And that is how easy it is to generate an SSS Payment Reference Number (PRN) and pay online all in one go with Taxumo.
P.S. If you don't plan on filing taxes anytime soon, you can turn off your tax filing email notifications under the settings tab.
Generate a PRN and pay your SSS transactions now through Taxumo by clicking this link or the button below.