In this article, we'll discuss the difference between eBIRforms and Taxumo, Philippines' popular online tools for tax filing.
With the annual income tax season heating up, people are scrambling to find an easy way to file and pay their taxes.
Since we're in the middle of a pandemic, you shouldn't be lining up at the banks or your local BIR office to get your taxes done. You should only do that if you have no other options available.
But, lucky for you, both the government and the private sector have been developing online tax tools over the past few years. On the BIR's side, they have eBIRForms and on the startup side, we have Taxumo.
Both of us roughly do the same thing, but what's the difference?
Filling Out Tax Forms

Every tax filing begins with filling out a tax form. Both eBIRForms and Taxumo can do this for you but there are different ways we approach this.
eBIRForms is like a fillable PDF. You'll have to fill out each cell yourself and enter the correct information in each cell.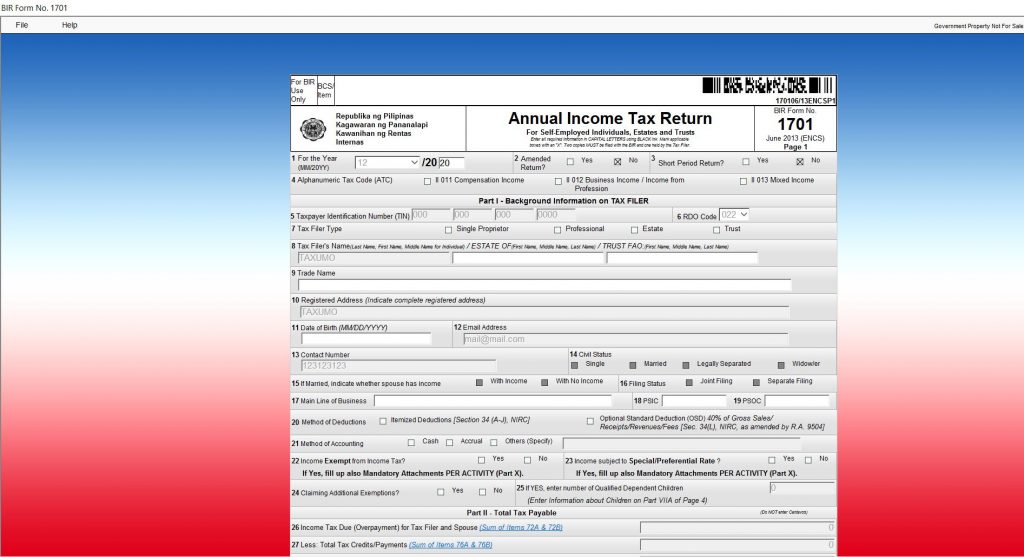 Taxumo takes an automated approach to tax forms. Since we know your taxpayer profile and all your income and expenses, it's easy for us to generate your tax forms without any input from your end. Just a few clicks and you're done! But, you still have the option to edit the form in case you need to.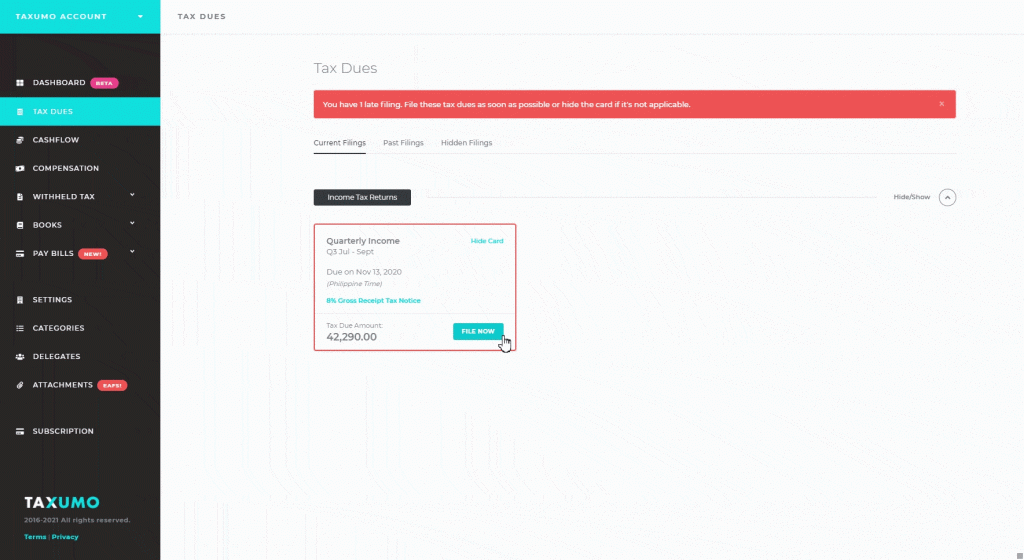 Updated Tax Forms
When you open eBIRForms, you'll see multiple versions of the same form which leads to a lot of confusion. And sometimes, the BIR also releases a new version without much notice. You'll need to do some googling to make sure you're filing the right version.
On Taxumo, we'll always file your taxes with the most recent form available. And that's one less thing you'll have to think about.
Tax Computation

eBIRForms requires you to manually calculate your taxes as it currently does not have a tax computation feature. This means you'll need to pull out your handy dandy calculator or a good old spreadsheet.
For tax computation, Taxumo does this automatically. Before you begin tax filing with us, we ask what taxes you're required to file. In addition, one of our key functionalities is that you're able to enter all your income and expense transactions with us. With that, we have all the information needed to compute your taxes.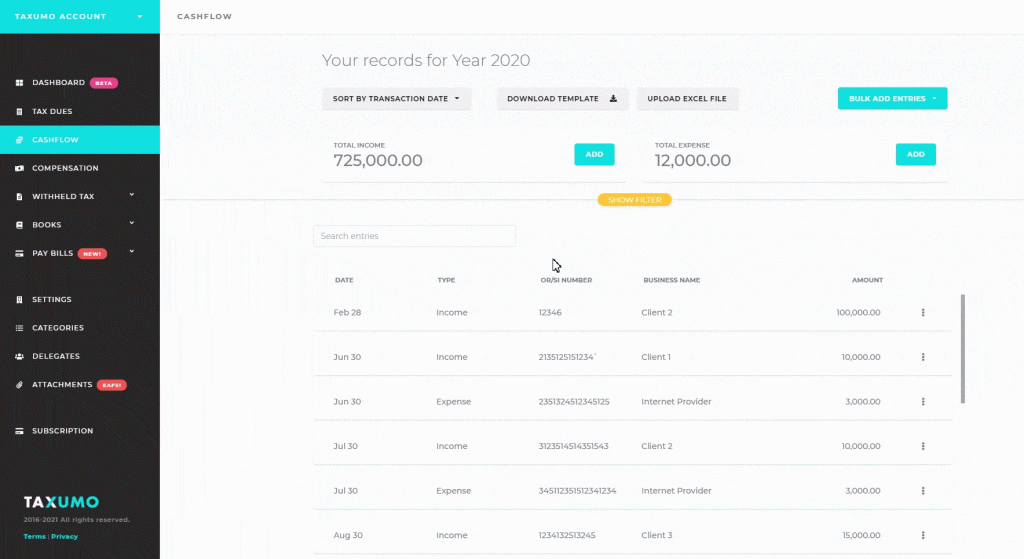 Attachments
Attachments sometimes get forgotten in the rush to file taxes. In case you don't know, attachments are additional forms that you need to submit to the BIR and this depends on the type of form your submitting. Some will require them and others won't.
For example, when you file your Annual Income Tax Return, you'll need to submit the Summary Alphalist of Withholding Taxes (SAWT) if you've withheld taxes in the past year. So, if you want to file your attachments, you will need to download another separate program from the BIR.
To learn how to file the SAWT attachment, this blog post will show you how to submit the SAWT with the BIR in more detail.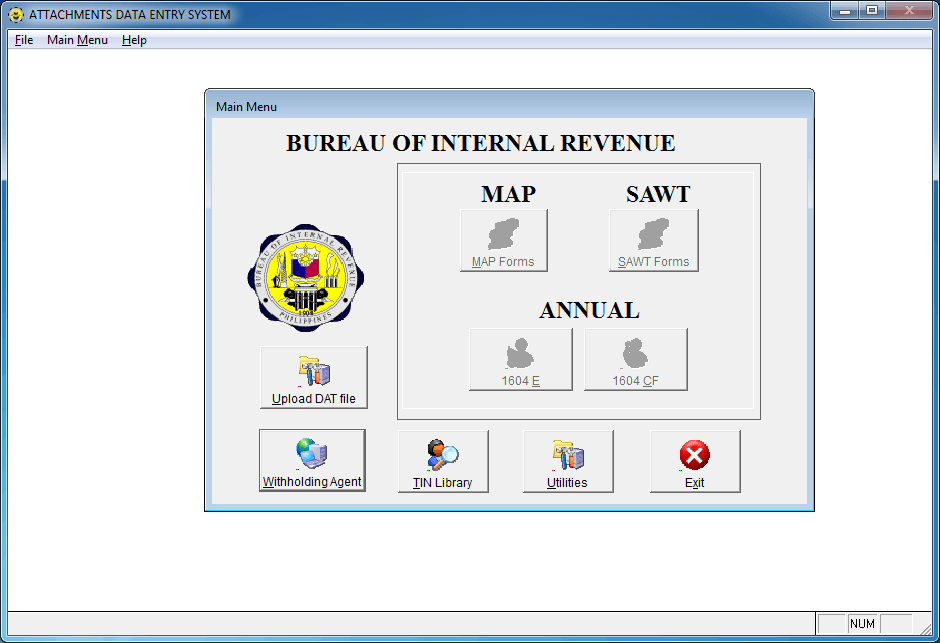 Another thing you may need to submit with your Annual ITR are audited financial statements. Mommy Ginger shows us how to submit audited financial statements with the BIR online.
While it's great that you have the ability to submit your attachments online, filing attachments through the BIR's current processes is still a lot of work.
So how does Taxumo handle attachments?
As much as we'd like to show you screenshots of how the process works, we can't. We automatically create and submit your attachments together with your tax filing in the background so there's nothing really to see.
Payments

The great thing about the shift to digital is that you can now pay your tax dues through multiple payment channels. Please see the table below for the different payment options available on both eBIRForms and Taxumo.
eBIRForms
Taxumo
LandBank
Development Bank of the Philippines
UnionBank
PesoNet
Globe GCash
PayMaya
GrabPay
Credit, Debit, and Prepaid Cards
Globe GCash
Online Banking (All banks with online banking functionality)
Over-The-Counter Banking
Bayad Centers, LBC, SM Payment Counters, etc.
So which one is the best for me, eBIRForms or Taxumo?
If you want to file your taxes for free, then eBIRForms along with other software from the BIR would your first choice.
However, if you want to have a painless taxpaying experience, we really suggest that you give Taxumo a try. Over the past 4 years, we've put in place features that would make tax filing a breeze for freelancers, licensed professionals, and small business owners.
Sign up for a FREE Trial on Taxumo now! All the features we've mentioned above are available on the free plans.